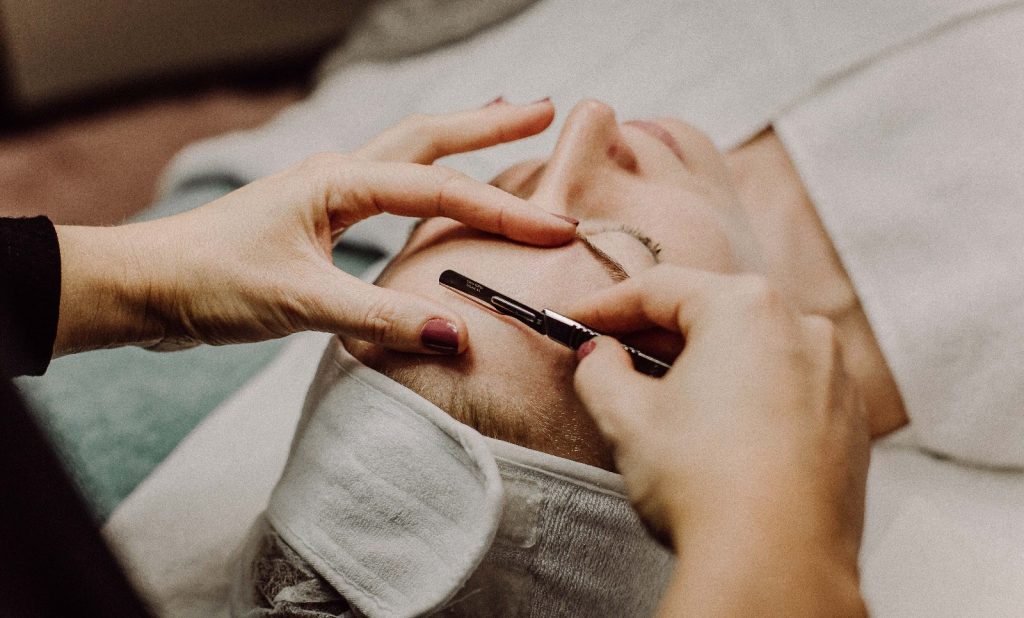 This course is for those:
# who can do dermaplaning but did not have professional training or
# Those returning from a break in therapy like maternity leave.
Course Duration: Total of 5 hour training (3 online & 2 one on one)
All training includes all the materials & products used during the training. (except when practical is done online)
Additional trainees in any course will be at a special rate. Please contact our friendly team for more information.
About the course:
Our multi-faceted educators bring a lot of value to the student experience during the Certification Course and beyond. All of our educators are qualified estheticians with qualifications in Adult Education, as well as DermaplanePro Certified Trainers. Our educators each have their own skin care practice and in addition, many offer additional classes in other specialties such as lashes, micro-blading, micro-needling, chemical peels, private label skin care and represent a professional skin care line.
Your Certification begins with Part 1: Online Learning, followed by Part 2: Hands-on Coaching takes place at a live class near you or one-on-one with our Certified Online Trainer.
Part 1: Online Course
What's Covered in this course?
Dermaplaning and Exfoliation
Biology of the Skin
Biology of the Hair
Consultation & Skin Analysis
DermaplanePro Demo Video – Right
DermaplanePro Demo Video – Left
Part 1 Course Quiz
Materials include:
~ Training Manual,
~ Consent Forms &
~ Face Diagram (PDF).
You will have access to download these.
Upon successful completion of this course, you will receive your first of two certificates.
Your training doesn't end when you leave the class. We are here to support you via e-mail, phone, live video conference and access to our private Facebook group Dermaplaning NZ to help you through any challenges as you work your way toward mastery.
Part 2: Hands-on Coaching
This is the Experience portion and is hands-on either in class or live video if you are too far away. All of the tools and supplies needed for 25 dermaplaning facials are included in the Deluxe ProStart Kit, which therapists receive in class.
Post-training support is unlimited via e-mail, phone, auditing a class or live video.
Please contact Beauty Cover for Professional Liability Insurance Company for coverage, should you not have any.
If you're not registered as a client with us yet. Click on the regiter button to secure your training. To Register click HERE
For more information, email our friendly team at training@salonsetup.co.nz
Praise for this course
"Just finished an amazing training with Sonia. She was so professional, so knowledgeable and just a wonderful trainer. If you are interested in dermaplaning, DermaplanePro is the way to go!!! I could not be more impressed with the education I received today!!!"
– MaryAnn
"It was of my best trainings ever! And I love the blades too! Dermaplaing is favorite service for me and my clients now. Thank you so much! You're the best!"
– Olga
"Just completed my certification today and it was an awesome class. The trainer did an excellent job representing your company and our industry! I will tell others about DermaplanePro!"
– Tracie
"Completed my training with Deborah today. It was awesome and I learned a lot from a truly great educator. Thank you all so much. Great training, great support, and great education."
– Audrey Marie
"Just completed a class on Saturday with Amy in Seattle WA., it was great! Thank you so much Amy, Dermaplaning is so gratifying and the products are amazing!"
– Anne
"Laurie, my instructor, provided me with top notch education. I look forward to honing my new skill!"
– Kimberly Rae